If you don't know what OTP stands for, it means One True Pairing – aka, couple goals! There are so many adorable couples in literature and they just continue to make me believe that love is real. At least, I hope.
So today, I wanted to talk about my favorite couples and my all time favorite OTPs! This is not ALL of them, but the ones I couldn't leave off this list, so if you don't see your favorite couple, I'm sorry!
***Warning – this post may contain spoilers!!! Read at your own risk! I also will be doing my best to track down the artist for all fan art featured in my post, but if I incorrectly name an artist, I would appreciate the correction. Thanks!
Aelin + Rowan
Is anyone surprised that I included Aelin and Rowan? I love their relationship and while it doesn't start off well (Heir of Fire), as they grow together I fall in love with them as a couple. Aelin's snark to Rowan's cool exterior is a favorite of mine and it reminds me of my own relationship. Though that isn't to say Rowan won't stand up for Aelin and protect her when she needs it – if she needs it. They're just so fun to read about and their love is so fierce.
Artist: Gabriella Bujdoso
Annabeth + Percy
The Lightning Thief was one of the first books I read that was a fantasy novel (and ultimately got me into reading) so I hold a special place in my heart for Percabeth. Their relationship, which grew from literally nothing, made me feel so happy as a kid! I read the entire series in middle school and haven't had a chance to reread them since. I've heard their relationship develops more in the spin off series as well, so I may have to do a Lightening Thief reread and then read Heroes of Olympus. Either way – their relationship is so wholesome and wonderful and now I miss them!
Artist: Viria
Feyre + Rhysand
Okay, if you thought I was going to mention Aelin and Rowan and NOT mention Feyre and Rhys – why? I love Sarah's books and the relationship between Feyre and Rhys is literally so cute. Sure, he was really mean in the first book as an attempt to try and protect her, but he completely redeemed himself in ACOMAF and ACOWAR! He helped Feyre through her trauma and depression, allowed her to gain independence by teaching her to read and write, and allowed her to fall in love with him before letting her know they were mates. I mean – COME ON!!! Their relationship is so sweet and wild, I just love them.
Artist: Stephanie Brown (@OffBeatWorlds)
Tessa + Jem
The Infernal Devices is my favorite Shadowhunters series and oh man, did I root for Jessa. While I was happy that Tessa ended up with Will at the end, her relationship with Jem seemed more genuine and loving compared to Will. And (SPOILERS) – when she finally gets to be with him in the future books, it makes me so happy! The events that went on in the Infernal Devices trilogy still haunt me and in the end, I think she should have ended up with Jem.
Artist: @xiannustudio (Redbubble)
Magnus + Alec
Magnus and Alec were one of my first ships as a reader. I wanted them to be together so badly and when they finally confessed their feelings, and Alec was comfortable telling other people, I was so happy! They just have such a great dynamic and are the cutest couple! Every interaction between them, and with them, is so sweet and funny and just great. (SPOILERS) – when I found out they had kids together I was so happy for them! I knew they would be great parents and they seem so happy and UGH! My heart can't take it, I just love their relationship.
Artist: @kotartus_ (Instagram)
Katara + Aang
When I first watched Avatar: The Last Airbender as a kid, I wasn't a huge fan of Aang ending up with Katara. I wanted them to explore Katara's relationship with Zuko and see how everything pans out. Now that I'm older, I'm all for Kataang! I love how their relationship is first based on friendship and they provide a good balance of personalities. Katara is caring, tough, sometimes hotheaded, and an overall good person which pairs nicely with Aangs calmness, rambunctiousness, and kindness. As we see in the comics, while a bit gross, they are a great couple together and genuinely love each other. It's hard to find a match that not only brings out the best in you, but also compliments and helps your "weaknesses". Overall, such a great couple and they're kids are awesome too!
Artist: Viria
Korra + Asami
Honestly, I love the idea of Korra and Asami together, but I'm really upset we didn't get a single moment of them until the END OF THE FREAKING SHOW. I wanted more screen time with their relationship and less of this back and forth with Mako. (though, don't get me wrong, I adore Mako!) I think this couple was cheated out of great on screen moments and now, all I'm left with is fan art. But seriously though, I think Korra and Asami make an adorable couple and, like with Aang and Katara, really balance each other out well.
Artist: Bryan Konietzko
Maia + Edan
This was a slow burn romance that I could not handle. Spin the Dawn took my heart, threw it against the wall, patched it up, and then sliced it in half with this relationship. Edan's love for Maia isn't obvious at first, but once they start to get to know each other, I'm done for. Edan is so sweet, Maia is so caring, and together they make an adorable couple. I love their interactions before they finally cave in and express themselves – sarcastic relationships are great sometimes! And don't get me started on Unravel the Dusk!
Artist: Rachele Raka @doodlingraka
Alucard + Rhy
Alucard is a snarky, SOB sometimes, but he's a total softy for Rhy! Every moment between them had me laughing or smiling like an idiot because, while not perfect, their relationship is just so endearing. Reading A Darker Shade of Magic, I just wanted the moments between Kell + Lila, and Rhy + Alucard. Nothing else. Just a total love fest between these characters! I love the moments between these two characters and it's so obvious they're in love with each other, it's tormenting.
Artist: @ace-artemis (Redbubble)
Zafira + Nasir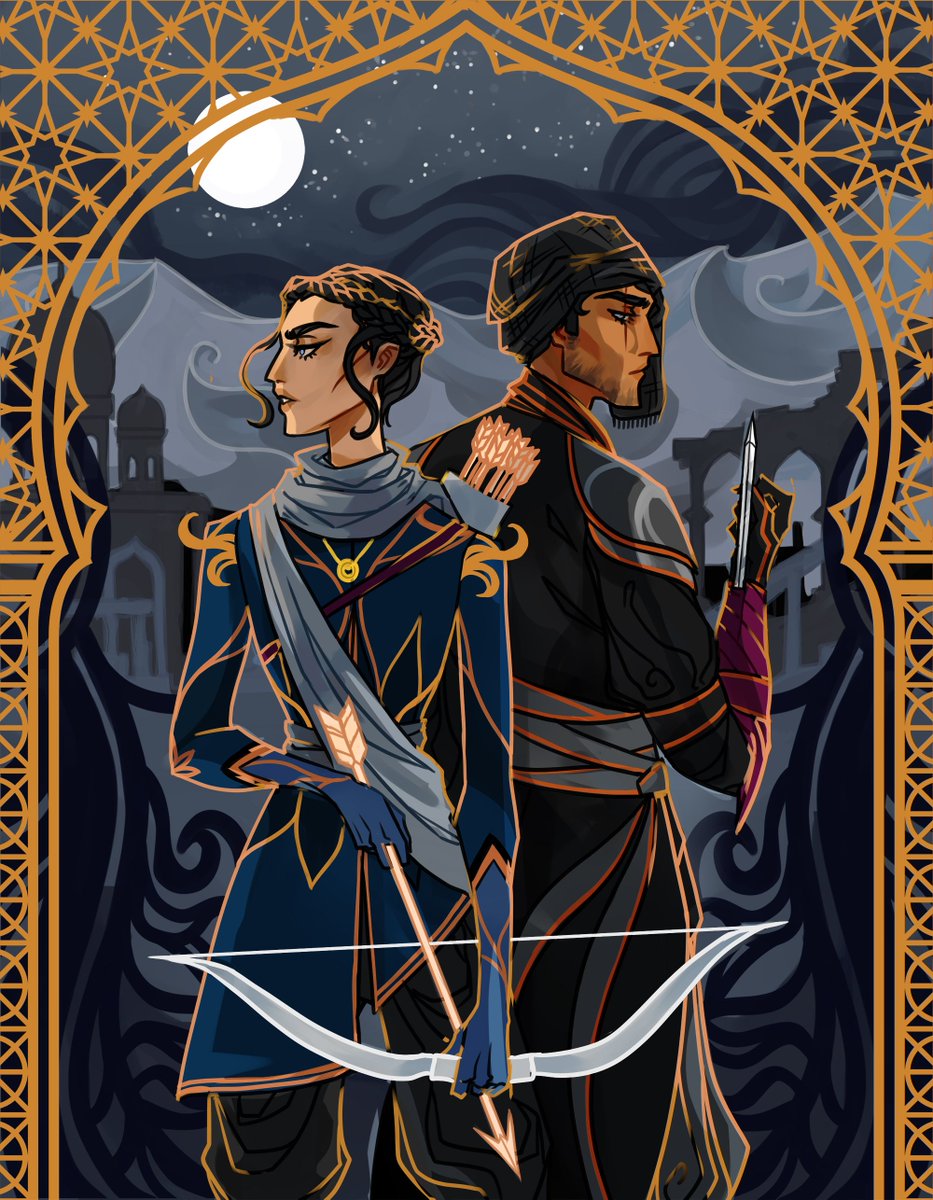 If you haven't read We Hunt the Flame, you absolutely need to. Not only is the sequel releasing March 2021, but the enemies to lovers romance is SO GOOD! Technically, they're not a couple, but I have a feeling they will be and I will ship them until my dying breath. Zafira is so sassy and strong, I love the power behind her character. And Nasir? He's an ass, but I know he has a good heart. Every interaction with them you see their chemistry and I'm tired of waiting – THEY NEED TO BE TOGETHER NOW!
Artist: @monolimeart (Instagram)
Elias + Laia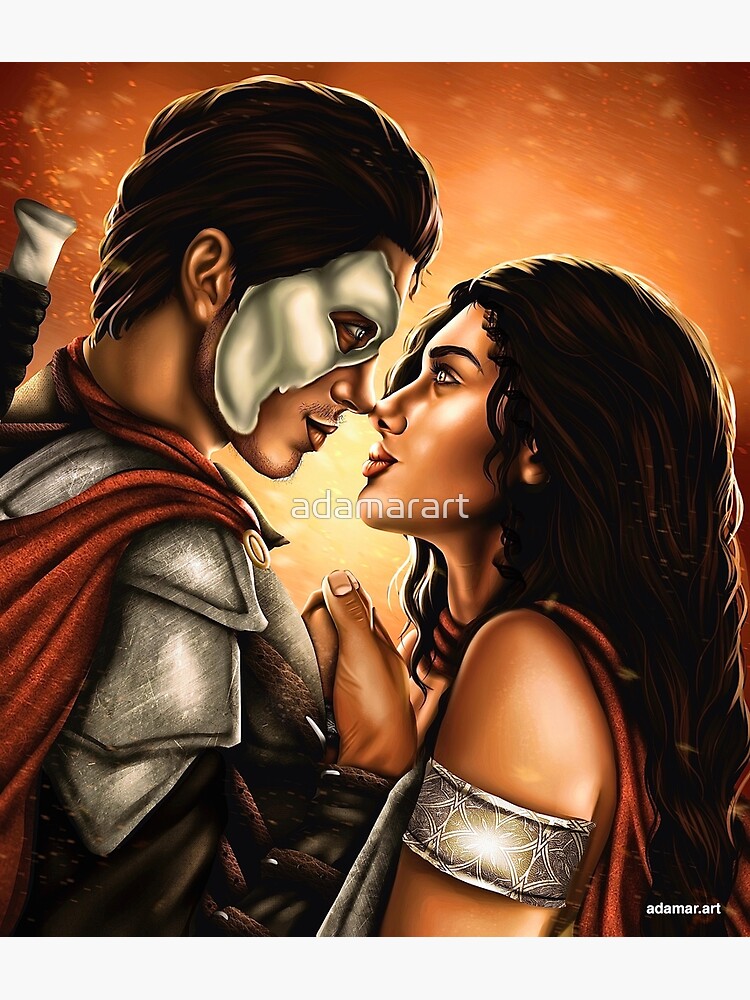 I'm so happy the final book, A Sky Beyond the Storm, releases in December because I have been waiting FIVE YEARS for these two to be together! And I swear, if they don't end up together, I will actually cry. Sabaa likes to torture her readers by giving them a great romance for characters that are destined never to be together and it is so frustrating!! I just love these characters and I want them to be in a relationship so bad! I guess we'll have to see if that happens.
Artist: @adamarart (Redbubble)
Lei + Wren

So, I read Girls of Paper and Fire, but I haven't read Girls of Storm and Shadow yet (I KNOW, I KNOW!) so I'm just going off of the first book for these. But still! I was rooting for these two the moment they met and I love their relationship. These two are in a horrible situation, but the fact they found comfort and love with each other made me so happy. I was nervous for them the entire time though! I can't wait to read the next book and see what happens to them. I hope nothing bad . . .
Artist: @pinktofu_art (Instagram)
Here are all of my couple goals! Some are not technically couples, but I think they should be. I'm sure my list will change through the years to add more people, but here are the ones I could narrow down right now.
What are some of your favorite OTPs?
.
.
.
.
.
If you liked this post, please like this post, leave a comment, follow, share with your friends – anything is appreciated!