This is the second horror/paranormal novel I've read this year and it did NOT disappoint! House of Salt and Sorrows by Erin A. Craig is an amazing, well written fantasy read which releases in August 2019. I managed to snag an ARC at NoVa Teen Book Festival back in March and while it took me a while to pick this book up, it didn't take long for me to finish it.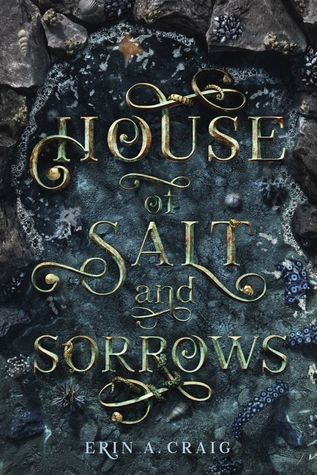 Here is the synopsis from Goodreads:
Annaleigh lives a sheltered life at Highmoor, a manor by the sea, with her sisters, their father, and stepmother. Once they were twelve, but loneliness fills the grand halls now that four of the girls' lives have been cut short. Each death was more tragic than the last—the plague, a plummeting fall, a drowning, a slippery plunge—and there are whispers throughout the surrounding villages that the family is cursed by the gods.
Disturbed by a series of ghostly visions, Annaleigh becomes increasingly suspicious that the deaths were no accidents. Her sisters have been sneaking out every night to attend glittering balls, dancing until dawn in silk gowns and shimmering slippers, and Annaleigh isn't sure whether to try to stop them or to join their forbidden trysts. Because who—or what—are they really dancing with?
When Annaleigh's involvement with a mysterious stranger who has secrets of his own intensifies, it's a race to unravel the darkness that has fallen over her family—before it claims her next.
When I first started reading this story, I knew it was a ghost story of sorts. The deaths of Annaleigh's four sisters is hard to stomach, and thinking they've come back to haunt her is worse. We start off the story at the funeral of her fourth sister as they return her body back the waters she came from. This seen was a bit sorrowful for me and almost hard to stomach for personal reasons, but a beautiful scene nonetheless. But it's the rest of the book that leaves me breathless, and a bit terrified.
Now, I like horror novels. Horror movies are a no-go for me, but novels are different. I like them to be extra scary so that when the lights go off at night, I can be sure to hide under the covers. This one was a great contender for that top spot! Not only did the mystery aspect of it leave me on the edge of my seat, but the horror images actually made me squirm. There were several moments in the story where I had to shut off that internal movie because the images were too gruesome or gross.
While this book is horrifically good, it's also got an interesting romance to it. One that I wasn't sure was developed enough. It feels almost forced that Annaleigh is enthralled with this one person because this person barely reciprocates. Until the end at least. Now, since this is an ARC review, these details could change. And I hope they do. I can appreciate a good romance in a novel, but not if it feels forced.
Besides the forced romance though, the relationships between Annaleigh and her family are heartwarming. Even though there is tragedy striking her family, they still remain close knit between the sisters. And I loved seeing that. While there is a few quarrels and differences of opinion, its clear that the sisters love each other and are constantly supporting each other. Which makes sense for what is going on in their life. Nonetheless, still something I love to see, as I have sisters myself.
Finally, the mystery of the story and the plot development is PHENOMENAL. Like, scream with delight amazing. It can be so hard to find horror stories that take care in the details and progression of events, especially YA horror. But Craig is careful and meticulous in her plotting, which shows by the end.
Overall, I would give this book
/5 stars, because while this story was amazing, the romance kind of drew it back for me.
.
.
.
.
.
If this book sounds interesting, check out The Waking Forest by Alyssa Wees.
.
.
.
If you liked this review, please like this post, leave a comment, follow, share with your friends – anything is appreciated!