A friend of mine had an ARC of Treason of Thorns by Laura E. Waymouth that she graciously sent me to be able to read! It releases on September 10th, 2019 so keep a lookout!
I was so excited to read this story and see what happens! Unfortunately, it wasn't as amazing as I had hoped.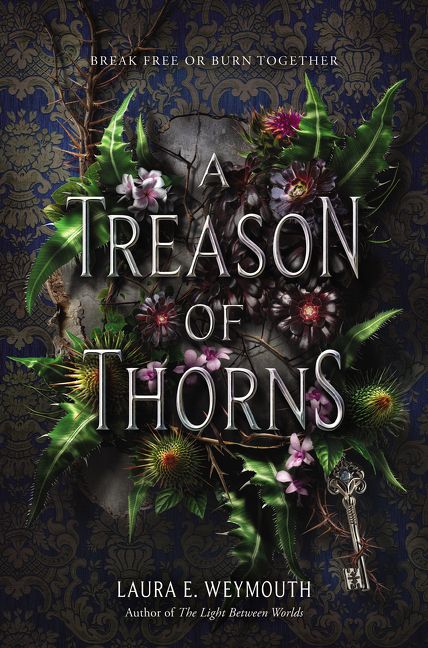 Here is the synopsis from Goodreads:
Violet Sterling has spent the last seven years in exile, longing to return to Burleigh House. One of the six great houses of England, Burleigh's magic kept both the countryside and Violet happy.
That is, until her father's treason destroyed everything.
Now she's been given a chance to return home. But Burleigh isn't what she remembered. Wild with grief, Burleigh's very soul is crying out in pain. As its tormented magic ravages the countryside, Vi must decide how far she's willing to go to save her house—before her house destroys everything she's ever known.
A house left unchecked will lead to ruin.
But I will not let it ruin me.
This synopsis sounded AMAZING to me! But I noticed problems within the first chapter. I thought the magic system in this story was crazy unique – the house has all the power and its Caretaker wields a key to help hone its power responsibly. I haven't heard of a system like this before and it was really interesting to read. My problem with it though, was that I didn't get a true sense of the magic system until more than halfway through the book. This not only made it confusing as to what was happening, but kinda boring. Which was unfortunate, because I thought the premise was really cool! It also made it hard to understand the issues going on with Burleigh and why it was having such a destructive response.
Reading this, I really wanted to see and understand more of the House's magic system and then be thrown a problem, not the other way around. While I understand Laura wanted a sense of mystery, it didn't connect with me and made it harder to enjoy the story.
Another thing that irked me was the repetitiveness of the main idea. Caretakers put their houses first, before anybody or themselves. Violet consistently repeats this in her head, out loud, to Wyn, and anybody who will listen. It gets a bit annoying after awhile. I understood the author was trying to make a point, and have Violet learn something by the end, but it was a struggle to read the same line/thought over and over again. It also occurred with several other ideas, such as the house magic, the house dying, saving the house, and other main issues with the book. It was like everything had to be repeated on every page lest the reader forget what is going on. It was so hard to get through, I almost DNFed at one point. Thankfully, more than halfway through the story, it redeems itself and gets crazy good. I absolutely loved the ending!
Besides those issues, I really enjoyed the story and thought it was a fun read. I did want to see more of the "side characters" we meet, because they brought a lot of personality to the story. It was a shame they weren't included more. Especially since Violet felt a bit flat in some parts (might be the result of the repetition but who knows).
Overall, interesting new read that I haven't seen before and think everyone should give a try once it has been published in September! I'm excited to reread and see what changes have been made.
I would give this book a
/5 stars, because the ending really did redeem the book and the other characters were so fun to read!
.
.
.
.
.
If this book sounds interesting to you, check out The Hazel Wood by Melissa Albert!
.
.
.
If you liked this review, please like this post, leave a comment, follow, share with your friends – anything is appreciated!