To All the Boys I've Loved Before by Jenny Han is a contemporary young adult novel about Lara Jean, the girl who's secret love letters are now, not so secret.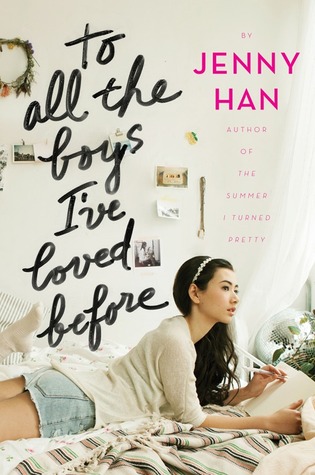 Personally, I'm not a fan of contemporary novels, especially romance novels, but this one seems to have found a special place in my heart. Going into this story, all I knew was that Lara Jean's love letters were sent to her past crushes without her knowledge, and now all five boys know she likes them, including her sister's boyfriend.
Here is the official synopsis from Goodreads:
What if all the crushes you ever had found out how you felt about them… all at once?
Sixteen-year-old Lara Jean Song keeps her love letters in a hatbox her mother gave her. They aren't love letters that anyone else wrote for her; these are ones she's written. One for every boy she's ever loved—five in all. When she writes, she pours out her heart and soul and says all the things she would never say in real life, because her letters are for her eyes only. Until the day her secret letters are mailed, and suddenly, Lara Jean's love life goes from imaginary to out of control.
To be completely honest, this book was so cute. I only read the book because I am buddy reading it before the show debuts on Netflix and I assumed I wouldn't be that into it. I was wrong! It's hard not to grow to love Lara Jean's quirkiness or Kitty's (Lara Jean's younger sister) spunk. I really wanted to not enjoy this book, but I couldn't. It was good and cute and I'm dying to read the next two books!
My favorite thing about the story line is that it's not relationship based. On the contrary, Lara Jean's motivation to avoid relationships made me interested in this story line and want to figure out 1) why and 2) is this actually going to remain like that? I also enjoyed the fact that our main character is not a popular girl or an absolute freak. She's – normal. She has friends but isn't a known somebody in the school. She has a close relationship with her family, but not too close. That's one thing I can definitely appreciate! The trope of the popular girl or outcast is too over done and this story brings a refreshingly interesting main character.
Another thing I enjoy about this story is that it shows a family that realistically loves each other. It's not all perfect sunshine and rainbows. There are fights and arguments and other things going on that occur but don't utterly destroy the relationships. This realistic family makes me actually smile, instead of rolling my eyes. As I read about Margot (Lara Jean's older sister), I'm reminded of myself. As an older sister I have to take care of my younger sisters and make sure they're on the track to success – not because I have to, but because I love them and I want to. It was so refreshing to see an older sibling that cared, but wasn't overly involved.
Another factor that made this book so enjoyable was the humor. I loved the inside jokes, or jabs at friends/family, or snarky comments that occurred between different characters. It not only kept the conversation interesting, but made it realistic. I'm a sucker for realistic characters and conversation!
I also really enjoyed how short the chapters were. It made the book fly by for me; I read it a lot faster than I would have assumed for a 350 page book.
Overall, I would give this book
 stars! I thought it was a cute, romantic read that wasn't your ordinary contemporary romance! I'm very excited to continue the series and read the next two books!
.
.
.
.
.
If you like this book, or this review sounds interesting, be sure to check out The Selection by Keira Cass!